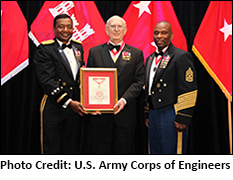 Department of Civil and Environmental Engineering (CEE) Research Professor and Glenn L. Martin Institute Professor of Engineering Gerry Galloway was named a 2015 recipient of the U.S. Army Engineer Regiment Gold Order of the de Fleury medal.
As the highest honor given by the regiment, the Gold de Fleury medal recognizes individuals who exemplify boldness, courage, and commitment to a strong national defense. Past recipients include Dr. Ed Link, CEE Senior Research Engineer, the late Ike Skelton, former U.S. Representative for Missouri's 4th congressional district, Daniel Inouye, former U.S. Senator from Hawaii, and John O. Marsh, Jr., former U.S. Representative for Virginia's 7th congressional district and former Secretary of the Army.
Galloway, a retired brigadier general, was one of two individuals presented the medal during the U.S. Army Engineer Regiment's 147th Annual Engineer Castle Ball on Aug. 7 in Arlington, Va. Along with Galloway, retired Lt. Gen. Robert L. Van Antwerp, Jr. was named a 2015 gold medal recipient.
"They are accomplished men who gave much to the nation both during and after their military careers and represent the best of the U.S. Army Corps of Engineers and the Engineer Regiment," said Lt. Gen. Tom Bostick, 53rd Chief of Engineers.
"It is humbling to receive this medal; however, any honor that accompanies this medal belongs not to me but to the great soldiers and civilians who shared with me their knowledge and experience and taught me what it means to be an engineering," Galloway said. "They willingly gave of themselves to make me a better member of the regiment."
The de Fleury medal was named in honor of François de Fleury, a French Engineer in the Continental Army.
As the Corps of Engineers implemented the U.S. Army Regimental system, the senior Engineer leadership sought a method for the Corps of Engineers to honor those individuals who have provided significant contributions to Army Engineering.
The Army Regimental System was developed to emphasize the history, customs, and traditions of the Corps. As such, Maj. Gen. Daniel R. Schroeder, then Commanding General of Fort Leonard Wood and Engineer School Commandant, wanted an award that would tie in with the beginnings of the nation and the Army Corps of Engineers.
The Engineer Regiment adopted the de Fleury Medal as an award because of the values demonstrated by the man for whom it was struck – values of special meaning to Engineer Soldiers. It is understood that the de Fleury Medal was the first Congressional Medal struck, if not the first medal authorized. It is understood that the de Fleury Medal was the first Congressional Medal struck, if not the first medal authorized.
Related Articles:
What Does a Pair of Dice Have to Do With Disaster Recovery?
Jose Torero Called as Expert Witness for Grenfell Tower Inquiry
Research Spearheaded by UMD Receives NSF RAPID Support
Michelle Bensi Joins CEE Faculty
UMD's Bilal Ayyub Named Distinguished Member of ASCE
Galloway to Co-Chair National Academies Committee
Rethinking Coastal Retreat
Bilal Ayyub Elected to Society for Risk Analysis Council
Galloway Receives 2015 RNRF Sustained Achievement Award
Center for Disaster Resilience Issues "Building Blocks for National Resilience Assessment"