Recent advances in computing, communications, sensing, and materials science are enabling the design of a new generation of large scale civil engineering systems. Signature applications that are new to Civil Engineering due to these advances include:
The next generation power grid that will link time-sensitive demand from home appliances, electric power cars, renewable energy sources, and other features for efficiency gains

The Pearl River Tower Complex will be the most energy efficient skyscraper ever built (scheduled for completion in 2010)

A Next Generation air traffic control and management system that incorporates advanced new vehicles, modernized avionics, and increasing levels of autonomy

Modernization of waterways such as the Panama Canal and Bosporus Straights,

Global natural gas and other energy supply chains (e.g., oil, coal) which involve a combination of engineering challenges as well as market, national, or regional goals

Sustainable development for high-density urban areas.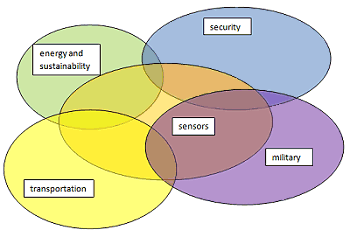 These systems will be required to support new functionality such as new types of interaction between infrastructure and people, have levels of performance that were previously unobtainable (e.g., in energy usage), and be economically efficient. In many cases, enhanced functionality and performance will be achieved through an improved ability to anticipate demand, monitor the surrounding (natural) environment, control system responses, and look ahead and anticipate events. Sometimes automation will replace some operations currently handled by humans. Future CEE systems will be far more heterogeneous than their predecessors and may be connected to other types of systems in completely new ways. This makes the task of system design, analysis and integration of multi-disciplinary concerns (e.g., reliability, efficiency, and system tradeoffs) much more difficult than in the past.
Additionally, there is strong linkage between civil infrastructure systems and public policy or societal goals. Consider challenges in energy management and transportation or energy networks. If we want to reduce carbon emissions in the power and other sectors, how much do we need to change our current power grid in light of:
Increased renewable generation (e.g., wind) and transmission expansion to connect the supply in less populated areas to where the load is in more populated regions

The strong interaction between vehicle usage and carbon emissions (e.g., the role of electric cars on the current power grid)

Using natural gas or other less carbon intense fossil fuels for the nation's fleet of vehicles
The goal of the University of Maryland Civil Systems program is to provide M.S and Ph.D. level education in interdisciplinary engineering systems typically found in civil infrastructure settings. The related research will concentrate on how to optimize system efficiency, reliability, cost, and other factors.