The University of Maryland's A. James Clark School of Engineering ranks #11 among the country's public universities in U.S. News & World Report 2022-23 Best Colleges rankings, rising one spot from #12 in 2022.
The 2022-23 list, released on September 12, also ranks the Clark School as the #22 overall undergraduate engineering program in the nation.
"The Clark School of Engineering has outstanding faculty, staff, and students. These rankings reflect the incredible community they have built to foster both education and innovation that impacts the world," Dean Samuel Graham, Jr. said. "I am proud of the accomplishments of our Maryland Engineers and the direction we are headed. We are developing the leaders our nation needs to address grand challenges."
Two Clark School departments—Civil & Environmental Engineering and Electrical & Computer Engineering—follow suit, moving up to 18th (Civil), 13th (Electrical), and 12th (Computer) among public institutions. Mechanical Engineering maintains its position at #12. Bioengineering and Chemical & Biomolecular Engineering debut in the rankings at #9 and #15 respectively.
Another Year of Societal Impact
This recognition from the U.S. News voters concludes the Clark School's successful academic year and summer. On July 12, 2022, citizens of Earth saw the first images from the James Webb Space Telescope. Among them were two Maryland Engineering alumni—Wen-Hsien Chuang (ECE Ph.D. 2005) and Dan Kelly (ECE M.S. 2005; ECE B.S. 2002)—who knew exactly how those pictures were obtained and processed. Both played key roles in developing the Near InfraRed Spectrograph, a breakthrough instrument designed to observe up to 100 space objects simultaneously.
Best-in-Class Student Competition Teams
Current aerospace engineering students received a Best in Theme award for a suitport logistics carrier presented at the 2022 NASA's Revolutionary Aerospace Systems Concepts – Academic Linkage (RASC-AL) competition. Designed to operate on the surface of the Moon, Mars, and beyond, this vehicle can transfer pressurized and temperature sensitive goods between a lunar lander and surface habitat.
Closer to Earth, another Maryland Engineering student team took the first place in the inaugural First Responder UAS Triple Challenge 3.1: FastFind Competition hosted by the National Institute of Standards and Technology (NIST). Student inventors presented an unmanned aerial vehicle (UAV) system that could "increase the speed of search and rescue operations where direct visual contact with a potential subject may be obscured."
For the fifth time since 2017, Maryland Engineering undergraduates won the Annual Student Design Competition organized by the Vertical Flight Society (VFS). Their "Blitzen", an electric vertical takeoff and landing air taxi for passengers with reduced mobility, offered accommodations for a wheelchair, storage for large medical devices, and resources for those with impaired hearing.
Over the summer, UMD hosted three international robotics competitions, with thousands of international K-12, undergraduate, and graduate students building and testing robots and autonomous aerial and underwater vehicles in the Neutral Buoyancy Research Facility, Unmanned Aerial Vehicle Test Site, and other venues.
New World-Class Facilities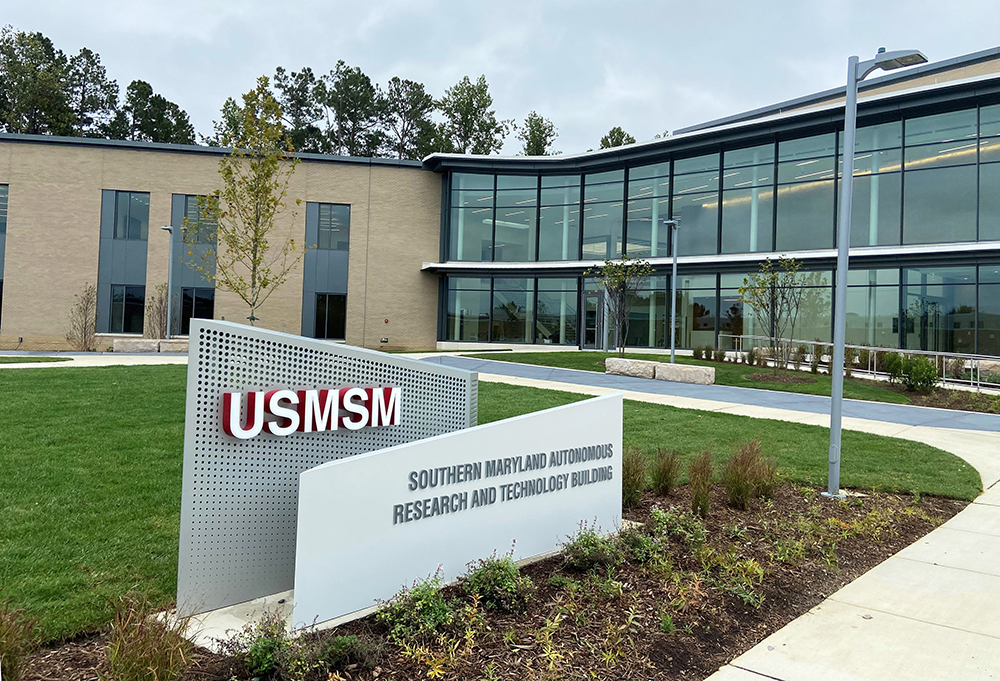 Back in College Park, the Alfred Gessow Rotorcraft Center, as well as multiple other labs and student teams, moved into the newly opened E.A. Fernandez IDEA Factory, a research and entrepreneurship hub built for young inventors. In Southern Maryland, their peers innovated away in the labs of the new Southern Maryland Autonomous Research and Technology (SMART) Building.
Prolific Partnerships
The Clark School also expanded its collaboration with Amazon, conducting the Amazon-University of Maryland Design Challenge with undergraduate students proposing enhancements for Spotify and other apps.
Welcoming young researchers of all backgrounds, Maryland Engineering and Microsoft formed a partnership to support Ph.D. fellowships, student-led diversity STEM groups, a seminar series, and a minor in robotics programming.
The college's efforts diversifying the engineering profession gained recognition from the National Science Foundation. At the end of the summer, the NSF ranked the University of Maryland as #1 non-historically Black college for African American undergraduates who later achieved doctoral degrees from 2010 to 2020.
Maryland Engineering rankings
| Department | Overall | Public |
| --- | --- | --- |
| Aerospace Engineering | 13 | 9 |
| Bioengineering | 24 | 9 |
| Chemical & Biomolecular Engineering | 28 | 16 |
| Civil & Environmental Engineering | 26 | 18 |
| Computer Engineering | 20 | 12 |
| Electrical Engineering | 22 | 13 |
| Mechanical Engineering | 20 | 12 |
Program highlights
Aerospace Engineering
From Classroom to Competition
UMD Team Wins Inaugural NIST UAS 3.1: FastFind Challenge
Flatau Named UMD AE Chair
Bioengineering
BIOE Undergrad Launches Black STEMpowerment
Developing a Therapeutic to Treat Injured Tendons
UMD Bioengineers Awarded $1M Moore Foundation Grant to Advance Bioelectronic Technology
Civil & Environmental Engineering
A Greener Alternative for Food Disposal
UMD to Guide Implementation of New Infrastructure Law
Attoh-Okine Named UMD CEE Chair
Chemical & Biomolecular Engineering
ChemE Students Discuss Climate Change Policy on Capitol Hill
New Research Could Improve Post-Operative Patient Outcomes
Maryland Engineering Recognizes Undergraduate Excellence
Electrical & Computer Engineering
From Community College to Ph.D.
Team Autocycle Wins Gemstone Honors Program Outstanding Team of the Year Award
Congratulations to Our 2022 Undergraduate Department Award Winners
Fire Protection Engineering
It's getting hot in here
Thomas Roche Receives 2022 Bryan GRA Award
Materials Science & Engineering
Eleanor Grosvenor Receives NSF Graduate Research Fellowship
MSE Undergrad Wins Semi-Final Spot in DOE Inaugural Business Plan Competition
MSE Undergrad Vincent Lan starts non-profit student group amidst pandemic
Mechanical Engineering
In the News: Leatherbacks Combat Robotics Team on ABC7
CEEE: Three Decades of Innovation
Engineering Outreach Through Next-Generation GOALKits
Related Articles:
Maryland Engineering Ranks Among the Nation's Top 20 Undergraduate Engineering Programs
Maryland Engineering Graduate Programs: Top 10 Among Public Universities, Five Years in a Row
Maryland Engineering Graduate Programs: Top 10 Public, Four Years in a Row
Maryland Engineering ranked #12 public undergraduate program in the country
Maryland Graduate Engineering Ranked #10 Public in the Nation
State Ranked Highly in Technology and Science Index
Clark School 3rd Nationwide in Recruiter Survey
Clark School Enters U.S. News Top 20
UMD?s Civil and Environmental Engineering Department in Top 25
Clark School #14 in World Research Ranking