Linda Waters, a fourth year doctoral student at the University of Maryland's (UMD) civil and environmental engineering department, has been awarded an Innovation in Buildings (IBUILD) Graduate Research Fellowship by the U.S. Department of Energy (DOE). She joins a cohort of seven graduate students from around the country who were selected for the competitively awarded fellowship in 2023. Her advisor is CEE associate professor Allison Reilly, an affiliate of the Center for Disaster Resilience at UMD.
Waters will receive $35,000 and have her tuition and fees covered under the one-year fellowship, which also comes with a travel stipend allowing her to attend conferences and events. She has the opportunity to apply for a renewal after one year.
"I'm really excited about it," Waters said. "I like the fact that it has a small cohort and provides great mentoring and networking opportunities, along with the financial support."
Waters is conducting her doctoral research at the intersection of sustainability and disaster resilience. Specifically, she utilizes simulation tools in order to determine how post-disaster reconstruction could be leveraged in order to advance sustainability goals and support equitable recovery.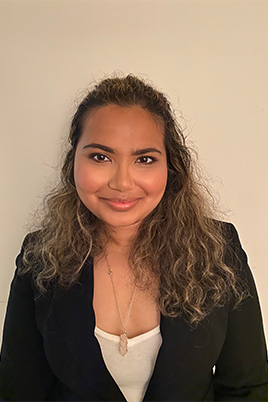 "I'm building a simulation that can represent different scenarios after flooding, in order to see what happens if we attach different kinds of sustainability requirements to the funding given to people to rebuild," Waters explained. "Within the simulation, we can estimate energy consumption and carbon dioxide emissions, thus allowing us to assess the carbon and energy impact of different policy interventions."
With the award, Waters joins another Clark School doctoral student, Nahin Ferdousi-Rokib, in being selected for prestigious DOE fellowships this year. Ferdousi-Rokib, whose advisor is chemical and biomolecular engineering professor Akua Asa-Awuku, received a DOE Office of Science Graduate Student Research Program (SCGSR) fellowship in June. Her fellowship research, which will form a chapter in her dissertation, focuses on measuring the cloud forming properties of aerosol particles and how these can be affected by surface tension. The data she obtains can be integrated into larger scale cloud models that are used to predict the scale and impact of climate change.
The SCGSR Fellowship "enables Ph.D. students to collaborate directly with scientists at DOE facilities," said Ferdousi-Rokib, who is currently working at the Pacific Northwest National Laboratory with Dr. Laura Fierce. "It's a great opportunity."