On June 9-10, 2014, the University of Maryland's Project Management Center for Excellence and the Project Management Institute Silver Spring, MD Chapter, welcomed more than 250 project management professionals for the Baltimore-Washington region's first-ever Project Management Symposium.
Held at the Stamp Student Union at the University of Maryland, the event featured more than 55 esteemed speakers and covered topics ranging from disaster management and human factors to agile project management and performance measurement. Keynote speakers included Gregory Balestrero (Former President and CEO, Project Management Institute), Karen Durham-Aguilera (Director of Contingency Operations and Office of Homeland Security, Headquarters, U.S. Army Corps of Engineers), Regina McElroy (Director, Office of Innovative Program Delivery, Federal Highway Administration), Ron Taylor (Principal and Founder, Ron Taylor Group), Mladen Radujkovic (President, International Project Management Association) and Melinda Peters (Administrator, Maryland State Highway Administration).
"We were thrilled to welcome a capacity crowd for this inaugural event," said John H. Cable, Director of the Project Management Center for Excellence. "This year's symposium represented the first-ever opportunity for area project managers to learn from and network with each other – as well as project managers from across the globe – right here in the Baltimore-Washington metropolitan area. Our proximity to the nation's capital, as well as the collaborative expertise of both the Project Management Center for Excellence and the Project Management Institute Silver Spring, MD Chapter, equipped us with a unique opportunity to delve into a multitude of project management topics impacting a wide range of industries and professions."
"The Project Management Center for Excellence at the University of Maryland represents the first-ever program in an engineering school to be accredited by the Project Management Institute's Global Accreditation Center. As such, the University of Maryland is uniquely positioned to lead local efforts to foster cross-industry education and the open exchange of best practices in project management through events such as this year's symposium," said Dr. Charles Schwartz, Professor and Chair of the university's Department of Civil and Environmental Engineering. "Rooted in the A. James Clark School of Engineering, the Project Management Center for Excellence boasts a roster of esteemed faculty – including project management professionals, engineers and area experts – who foster interdisciplinary research covering the full spectrum of topics in project management."
Additionally, the symposium further demonstrated the power of partnership between academia and industry as the University of Maryland and the Project Management Institute Silver Spring, MD Chapter's collaborative efforts drew experts from industry, government and academia to this year's event. Even more, the event spotlighted the breadth and reach of project management in the Baltimore-Washington region.
"The 2014 Project Management Symposium was a force multiplier for the PMI Silver Spring, MD Chapter," said Project Management Institute Silver Spring, MD Chapter President Marcus S. Parker, Sr. "It created volunteering opportunities for our members, and the proceeds will be used to support chapter events, scholarships, and value-added activities to enrich the value of membership to the local chapter."
Driving home the fact that effective project management requires not only internal leadership, but also accountability and public transparency, this year's first keynote, Gregory Balestrero, Strategic Advisor on Leadership, Sustainability & Corporate Consciousness for Learning, Inc., provided present-day examples of companies that have effectively embraced their social, environmental, economic and ethical responsibilities.
"For all of you who do project or program teamwork, the number one stakeholder is the customer," he said. "That's number one, but then there are more and more stakeholders because you're exposed through social media. Thus, you have stakeholders involved in your projects that you never knew about before."
Balestrero laid out a compelling cause for openness to strategic change and discussed the looming crisis of the growing global population outpacing the supply of available resources. Additionally, he demonstrated how companies have improved their brand by embracing an integrated approach to strategic change.
Building on this, keynote speaker Mladen Radujkovic, Professor of Project Management at the University of Zagreb and President of the International Project Management Association (IPMA), cited a recent Forbes report to emphasize the importance of competence in project management.
IPMA defines competence as "a collection of knowledge, personal attitudes, skills and relevant experienced needed to be successful in a certain function," Radujkovic noted.
Illustrating the progression of project management competence, Radujkovic said: "Classes introduce knowledge. Application leads to skill. Reinforcement – plus interpersonal skills – lead to attitudes, while experience and adaptation generate project management competence. Last, but not least, review proves performance."
Stepping aside from individual competence, Walter Majerowicz, Vice President and Chief Operating Officer for Integrated Project Analytics, LLC, and leader of the "Scheduling Ethics: Recognizing Gaming, Data Manipulation and Abuse in Project Schedules" session, discussed how project management success relates to an organization's overarching culture.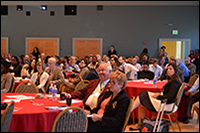 "Organization culture is an important factor to consider," he said. "Schedule gaming, data manipulation and abuse relates to the intentional modification of project or supplier-integrated master schedules in a manner designed to mislead stakeholders, hide factual information, mask performance problems, inflate margin, buy time to fix problems without executive leadership…. For instance, is the executive leadership one that would punish or come down hard on managers that bring bad news to their attention, as opposed to one to seek it out to deal with risks, deal with issues?"
"Leadership" was a common theme throughout the two-day symposium. Dwayne Brown, Managing Consultant for Navigant Consulting and leader of the "Human Factors in Project Management" session, discussed qualities and attributes all leaders must possess, including the gift of foresight, organizational skills, communications skills and empathy.
"Leaders must master the art of communication and project a positive attitude regarding project completion," he said. "They present clear goals and constantly update their team on the project status… they also learn the skill of 'error management.'"
Offering a firsthand account of both leadership and transparency in project management, keynote speaker Karen Durham-Aguilera, Director of Contingency Operations and Office of Homeland Security Headquarters for the U.S. Army Corps of Engineers, spoke about her experiences working with flood risk management in the wake of Hurricane Katrina. Durham-Aguilera provided a unique perspective as both an engineer and leader of a mega-project totaling more than $14 billion.
Durham-Aguilera shared details on how she handled a number of challenges, including risk-based cost estimates, intense schedule management, value engineering, real-time research and development, and applied science. Additionally, she spoke candidly of the need to be transparent and honest with the general public throughout the post-Katrina undertakings.
"I had never done so much public speaking in my life," she said. "We had to do that so people would understand what it was we were doing, and they would have an opportunity to share their ideas. But, we also needed to build public trust."
In addition to Durham-Aguilera, several of this year's session leaders provided additional case studies in project management, ranging from the Takoma Mountain Wind Energy Project – the construction of more than 50 wind turbine generators along a 14-mile mountain ridge in the eastern United States – to the Model-Managed University, an initiative put forth by one of the oldest non-public universities in Poland.
Switching gears to share insights on how to apply project management skills when confronting internal challenges, Jocelyn S. Davis, President of Nelson Hart, LLC, and an adjunct professor with the Project Management Center for Excellence, led the "Business Value of the Soft Stuff" workshop. Davis emphasized that happiness is, in fact, a major component of a successful individual, team, project or organization, and thus a pivotal factor in organizational success.
"One of the greatest determining factors for happiness in the workplace is whether or not people have achievable goals," she said. "This doesn't mean 'easy' goals. It means that, with proper support, hard work and application of personal strengths, people are able to achieve those goals.
"Are you supporting people's personal resources?" she later asked. "Are people in an environment where they get to use their strengths every day, as much as possible? Are you tapping into the levels of intrinsic motivation? What is the emotional tone in the workplace? As project managers and project team members, all of those things are in your control or at least in your influence, and they each have a big impact on outcome."
Building upon the success and enthusiasm surrounding this year's symposium, the Project Management Center for Excellence looks forward to expanding the event in its second year, June 8-9, 2015. Taking into account the influx of paper submissions received for the 2014 event, a tremendous turnout for paper submissions is anticipated for 2015. As such, the Project Management Center for Excellence has announced that the call for papers for the second annual symposium will be released in September 2014. Additional details are available online.
View the full gallery of event photos.
Related Articles:
Fourth Annual Project Management Symposium Draws Record Crowd
Inaugural Project Management Symposium Agenda Announced
Project Management Symposium Early-Bird Registration Ends Today
Symposium to Address Value of Considering Risk in Project Management
Project Management Symposium to Feature UMD Faculty, Students
Project Management Symposium to Feature Transportation Expert
Project Management Symposium to Feature Sustainability Expert
Registration Open for UMD Project Management Symposium
UMD to Lead Citizen Developer Training for edX
Project Management Center for Excellence Lauded by Accreditor